First Month Google Ads Management FREE
Available to Only 5 Businesses This Month
That's Right! We Are Offering Our Services at No Costs For The First Month to Help Businesses Get More Clients. We are offering:
High-Converting Landing Page (Average 12%)

Offer To Make Your Business Stand Out

Weekly or Monthly Ad Budgets

No Setup Fees & No Contracts

Guaranteed Increase in Conversion Rate
We are only offering this to 5 businesses this month in order to help with the current COVID-19 situation. We truly believe that our approach gets the best return on investment.
Please register your interest or enquire now!
We Are Here to Help You Get More From Your Campaign Budget
Our Unique Approach that Allows us to Increase Your Leads by at Least 20%
Our approach is based on identifying the target market, linking the ad campaigns to your sales process, minimising your cost per click and thus getting you high-quality leads.
Here are some reasons why you might want to run your campaigns differently:
About Your Easy Web Solutions
We are an Australian digital marketing agency with offices in Brisbane and Melbourne. Our aim is to help businesses grow through clever marketing that reaches ideal target audiences with the right message. With hundreds of happy clients on board, we are looking to grow our success with new clients.
Our Team
The managing director Alexei Kouleshov personally gets involved in every account that comes on board. With his experience in web design, information systems and marketing, he is able to provide the necessary attention to detail to make sure each account is successful.
Our team consists of 7 highly skilled individuals, all specialising in their own areas. Our search engine marketing team members hold distinguished awards from Google for their performance and certifications.
With all of our accounts, we get Google account representatives providing us industry benchmarks and their feedback to make sure we are on the right track. This is a privilege available to Google Premier Partners and makes a big difference.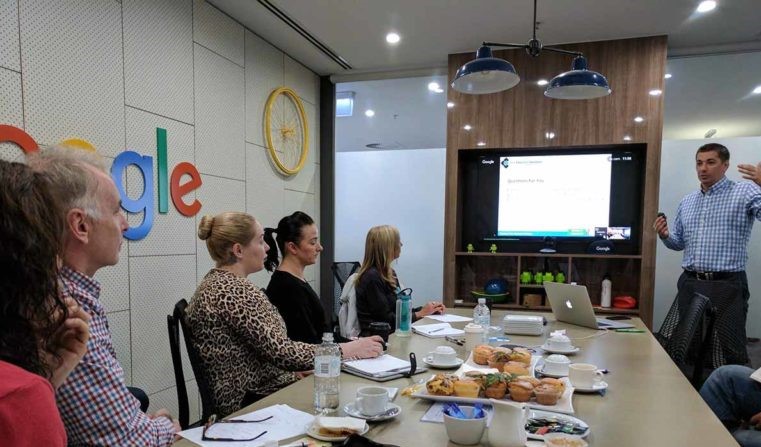 Our managing director Alexei presenting at Google HQ
Effective Advertising
We specialise in campaigns that are fast, effective and scalable. Being able to start fast, work with any budget and produce results is what makes us different. We apply strategies that best suit a business model to produce conversions.
Our Approach
Typically, we recommend that our clients start with Google Ads as it is the fastest way to get targeted exposure for almost any business. Once we have enough data, we are able to look into other marketing avenues such as SEO and Social Media. We don't tend to specialise in everything, which is why we partner with a number of agencies that are good at what they do. Our specialty is Google Ads.
What Our Clients Say
I would thoroughly recommend Alexei and his team. My business is centred around providing various professional services and I have very little IT or online marketing knowledge. I felt Alexei picked up the key points relating to my business very quickly and was able to clearly explain to me what we needed to do to make my online presence work much better.
Alexei and his team have been exceptionally approachable and answered my "dumb" questions without hesitation and in a language I could understand. The other thing was they were very efficient and worked within my time lines and kept promises they made!
Thank you Alexei for meeting with us today to not only discuss how we can improve leads for our clients to assist with business growth, but also how we can improve our own SEO. You have enhanced our understanding of the digital marketing space through conversation and supplying content that is easy to understand.
Very quick results and good quality leads!
Alexei and the team completely revamped my outdated website and brought it into complete compliance with google and mobile device viewing modes. It was a well explained process, quickly done with a very smooth handover at the end. Any later technical questions have been easily handled by the YEWS team. Highly recommend that you contact YEWS if you are in the process of building a new site or updating your existing one.
Our legal practice campaigns needed some fresh ideas and a totally new approach as they simply were not working. We've engaged Practice Results to come up with the new campaigns around our goals focused at specific types of clients and this has worked very well. I found their approach to be very personal and goal oriented. Thank you
Frequently Asked Questions
Our basic package starts at $99 per week. The campaign depends on the budget, campaign type and market complexity. We provide a full proposal with fees outlined before commencing any work.
Yes, this is included in this package. We use our high-converting landing page format to help you win more business. It is optimised for desktop and mobile and is specifically aimed at generating enquiries.
Our offer includes:
Market research and campaign setup

Ongoing management (ongoing finetuning)

Your sales process analysis

Landing page setup to match your sales process

Full conversion tracking (calls and enquiries)

Reporting
Our aim is to provide you with results-based campaigns that generate leads that meet your target market. This obviously includes the necessary communication in order to achieve this.
We will provide you with options to continue your campaigns based around your goals and marketing budgets.
The budgets vary depending on the type of business and clients' goals. We recommend a minimum budget of $200 per week for small businesses in order to get good market engagement.
Yes, you can, however we will be limited in terms of optimising your conversion rate and tracking. We might not be able to do the necessary setup easily enough and will discuss this with you prior to moving forward.
Enquire Online Now or Ask a Question
Disclaimer: All information is kept secure and will not be shared or sold to any third party.