We have some good news for health professionals
Cost Per Clicks are down in certain searches i.e. "Invisalign" + "braces"

Gain market share while other market players are sleeping

Search Results are up for dental and allied health treatments

Search terms such as Invisalign are up by as much as 550%

Take advantage of the search trends by creating a waitlist

Allied Health are deemed an essential service by the federal and state government
It's not all bad news out there! As we find in marketing, there are wins when you least expect it – you just need to be looking in the right place. That's why we're always keeping an eye on the latest Google and industry trends. Things are changing quickly.
Let's talk about the wins.
Win 1 – CPC are Down
Win 2 – Search Results are Up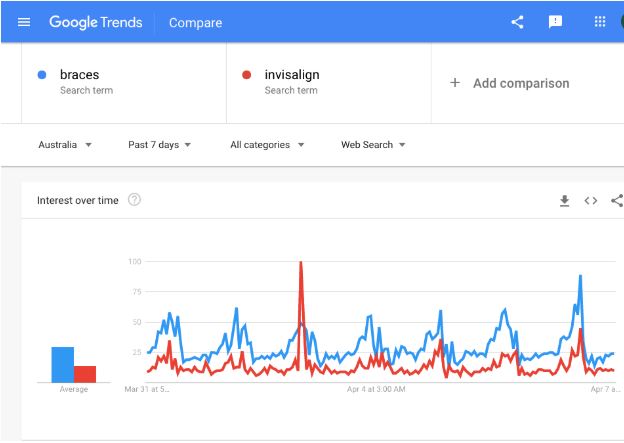 Did you know search hits for Invisalign are up 550% this week?
The second opportunity is increased searches for home and health services. 2020 is shaping up to be the year of renovation + reparation. Whether it's you're fixing your smile or you're fixing up a home renovation, hibernation habits are all about customers and patients looking for services that focus on the 'fix it'.
What does it mean for dentists and allied health professionals if their patients are searching for services that are not currently available (that is, deemed non-essential or non-urgent)?
It means there is an interest and probably an intention to purchase or book in these services.
A key benefit of the unfolding situation is that consumers are willing to wait – because they have to.
Take advantage of consumers' hunger for unavailable services by creating a waitlist and an offer that's hard to resist.
For example:
Can't wait for a new smile? Join our waitlist and take 20% off our Invisalign treatment package today. 
Interested in kicking off this offer for your practice? The great thing about this offer is that you can deliver it across multiple mediums. Get in touch with one of our team members and we can discuss which is the best option (e.g. sponsored Facebook ads, Google Ads or email campaigns) for your brand.
Win 3 – Allied Health an Essential Service
The Australian government has ruled that allied health services remain open.
If you are an allied health service who is still running we highly recommend using your contacts (past, present and enquiries) to let patients know:
About how you're responding to COVID-19.

That your clinic has undertaken COVID-19 training

How you're changing services – i.e. more telehealth appointments.

The answers to FAQs around changes to patient care and practice operations, social distancing, telehealth and bulk-billing.
If you haven't already, the government's COVID-19 course is a fantastic way to train your staff and reassure your stakeholders that you're proactive in taking measures.
"Telehealth a key weapon in the fight against the COVID-19 pandemic."
You might know by now that the government will double the bulk billing incentive for GPs and allied health professionals for face-to-face and telehealth services.
This could be a fantastic reason to get in touch with your patient contact list.
If you're looking for inspiration, Our Chiro has an excellent pop-up message.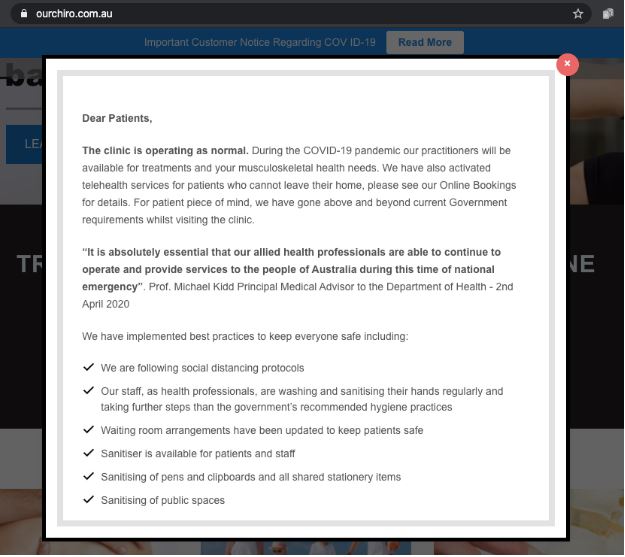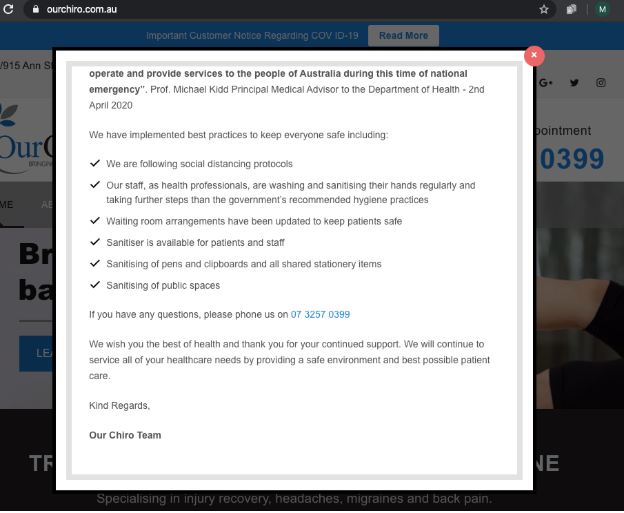 Need help adding a banner message to your website or coming up with an email campaign to speak to your patients?
Please get in touch.
We're helping lots of our clients to deliver their message directly to the same contacts in new ways they hadn't even considered.