You've probably heard of SEO. Whether you're here because you're sick of getting caught up in the marketing jargon or just want to learn more about more marketing options available to you, this blog will break down what is SEO and how it works. 
SEO is:
about getting to the top of the list for search results

generates Organic Results not Paid Results.

a long-term strategy

not so much about short-term numbers but long-lasting competitive resilience.
What is SEO?
Search Engine Optimisation is all about how prominent your website appears organically for a search result. Ultimately, if a new patient or client is researching topics, products and services related to your offering, you want your website to appear as close to the start of the customer journey as possible, that is the 'optimal' result. 
SEO versus SEM and Organic versus Paid Results 
There's a whole other language when it comes to digital marketing, so don't worry if you're getting confused with some of the jargon – when we talk about 'organic' it's nothing to do with pesticides or food…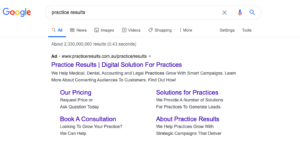 Organic versus Paid Results refers to the difference between a top search result that is most prominent due to the relevant content/information on the webpage.
Whereas Paid Results, also known as SEM, are the search results labelled 'Ad' that appear as a result of Google Ads campaigns. The image to the right shows the paid results for our branded terms 'Practice Results'.
SEM is a topic for a whole other post. 
How does SEO work?
Have you ever looked up an online recipe only to find yourself scrolling extensively through descriptive text just to get to the actual recipe? It's probably why you found them. This is how a lot of bloggers ensure that their recipe appears ahead of a multitude of competitors. 
The key difference between amateur bloggers and digital marketing professionals is the level of sophistication in SEO and the knowledge of what really drives those optimised results. 
As you can see in this example, Our Chiro, one of Practice Results' most loyal clients, is the first listing for the search term 'chiropractor fortitude valley'. In contrast, to convoluted recipe websites, Our Chiro is the first listing because it gets straight to the point, delivers relevant information to future patients and. 
For more sophisticated SEO, less is more. Embedding popular search terms, relevant information such as location details, descriptive images, video and information tailored to the target market is essential for improving your search results. 
Why use SEO for your Practice? 
SEO is an unsung hero of the digital marketing space. On one hand, Google Ads/SEM provide clear, attributable data about leads, conversions etc., On the other, SEO is a long-term strategy, the success of which is undefined in specific attribution metrics and yet, we know from research that it leads to increased brand exposure, the website traffic and competitive resilience. 
For more information about SEO or any more of our services, please get in contact!